Heat Treatment Equipment
Batch Type Clean Oven (for Displays)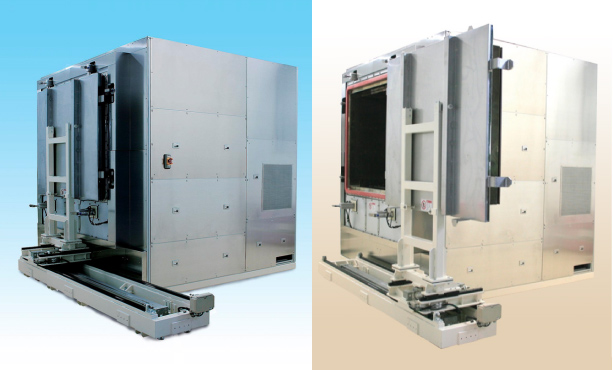 This clean oven incorporates our newly developed, proprietary special heat-resistant filter!
Because HEPA filters are not used, a cleanliness class equivalent to that of an IR oven is achieved (class10).
This unit also significantly outperforms conventional hot air ovens in terms of heating/heat-up capacity and uniformity of temperature.
Because it relies on hot air circulation, the amount of N2 and electricity used is half that of an IR oven, thus providing outstanding energy efficiency. Also, the entire furnace chamber is heated, thus preventing condensate and sublimate from adhering to the furnace chamber walls and, thus, ensuring no reduction in operating rate due to periodic cleaning.
■Principal Applications
PI curing (e.g., flexible OLED), annealing, dehydrogenation or other treatments for TFT, baking for frit sealing (OLED) or other glass
■Unit Specifications
Substrate size: G2.5 – G8.5
Heating method: Convection-type (heated air circulation-type)
Maximum temperature: Max. 550°C
Temperature precision: ΔT = ≤ 9°C
Heat-up/cool-down rate: Up rate = 7°C/min Down rate = -7°C/min (Ave.)
Cleanliness class: Class10
Atmosphere: Air or N2 gas (pure N2)
Furnace interior O2 concentration: ≤ 10ppm (when using pure N2)