Introduction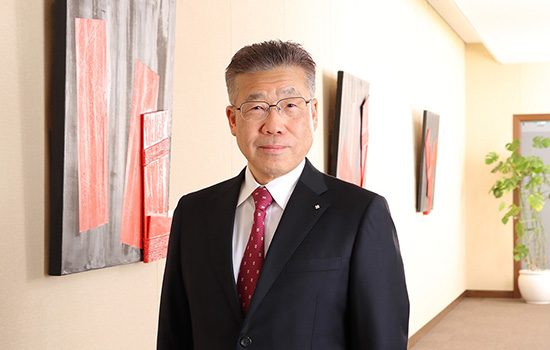 Akira Ozaki, President
Tackling the challenge of global quality with boundless creativity and ingenuity. Providing new value to society and the planet through the evolution of manufacturing.
Since its founding in 1945, Chugai Ro Co., Ltd. has been a technology-driven company, continuing to develop innovative technologies in the thermal technology field. Our core competence lies in development and design. However, as it is difficult for a company to differentiate itself from its competitors on the basis of technology alone in today's mature engineering environment, we strive to advance the fusion of engineering and production technology. Specifically, putting the development, design, and manufacturing functions all in one place allows us to share and improve know-how beyond the barriers of individual functions and departments, and increases information exchange that facilitates the reconstruction of processes. Through our successful implementation of this fusion, we have succeeded in more accurately tracking our customers' requirements and thus consistently produce better products.
We attach great importance to the optimization of our domestic and overseas bases of design, procurement, and production, the introduction of cutting-edge design and analysis tools, and the acquisition of both ISO 14001 certification and ISO 9001 certification. We believe that complex improvement in software and hardware will improve the current level of our company as a manufacturer and demonstrate our power to the maximum extent possible.
In addition, contributing to the sustainable development of society and the planet continues to be a key concern worldwide. There is strong demand for more energy-efficient thermal technology not only in industry but in consumer homes as well. At Chugai Ro, we will capitalize on our distinctive and innovative technology to allow us to meet, head-on, the ever-growing expectations and responsibilities in our fields of business.