Steel and Nonferrous-metal Heating Furnaces and Heat-treat Furnaces
Reheating Furnaces and Heat Treatment Furnaces
for Large-scale Materials
■Walking Beam Type Reheating Furnace
| | |
| --- | --- |
| Reheating Furnace for Steel | Reheating Furnace for Copper and Copper Alloys |
Chugai Ro's reheating furnace technology has been highly evaluated worldwide since Chugai Ro delivered 150 or more Walking Beam Type Reheating Furnace units to major iron works and copper elongation companies in Japan and overseas. This model is suitable to all rolling mills, such as hot-rolled, section steel, wire rod, and pipe mills and used by a large number of customers.
In recent years, with the adoption of a regenerative burner that makes effective use of high-temperature exhaust heat and a computer-employed high-precision combustion control system, the product has been contributing to further energy saving and the prevention of global warming.
■Hardening and Annealing Furnaces/Hot Forging and Annealing Furnaces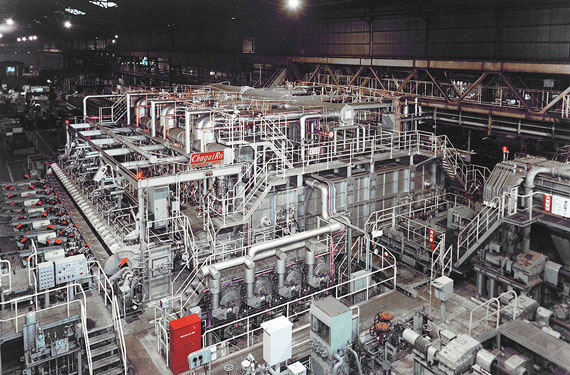 A rotating drum sealing, extraction mechanism, and dedicated beam are adopted for the stable transfer and uniform heating of steel pipes.