High-precision Coating and Drying Equipment
Continuous Die Coating & Drying Line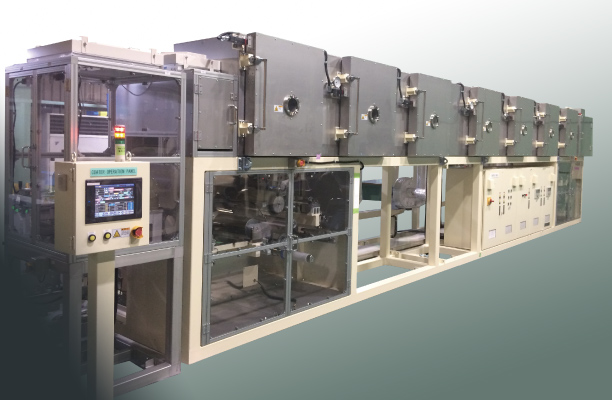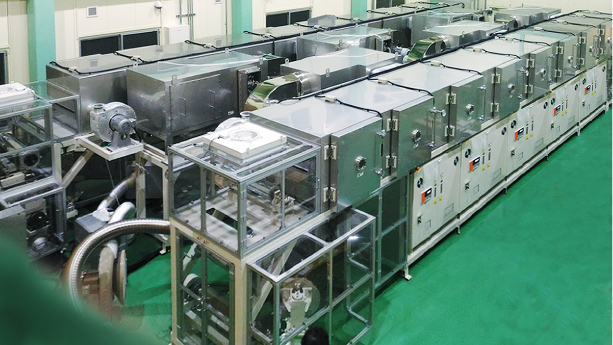 This fully automated continuous line system performs high-speed, high-precision roll-to-roll coating and drying of paper, film, foil sheets and other such substrates. A slot die is used for the coating head, thus ensuring superior stability and reproducibility in coating quality. The system is also capable of intermittent coating, as well as incorporating additional functionality, such as lamination and slit functions, into the coating and drying stage.
Continuous Die Coater
This system unwinds and performs continuous coating of rolled substrates, such as paper, film and foil. 
The design makes use of a slot die which has been incorporated in line with the results of fluid analysis as well as ample real-world success.
(Clean Coater Example)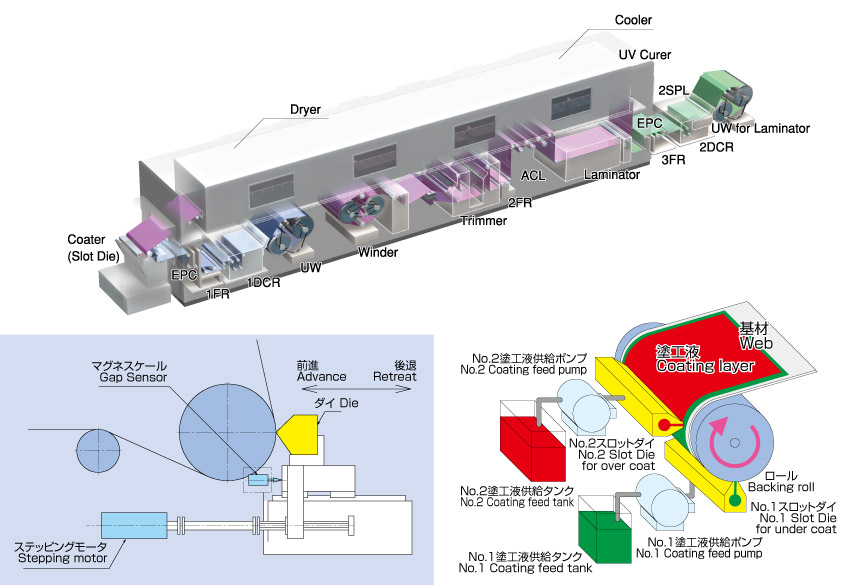 ■Key Features and Specifications
Adopts a non-contact coating system which helps prevent defects caused by the intrusion of foreign material or roping
Uses closed-loop coating to reduce solution evaporation surface area and ensure there are no changes in coating solution characteristics
Accommodates a wide range of viscosities, from low to high (0.001 – 100Pa∙s)
Accommodates a wide range of coating thicknesses, from thin to thick (5.0 – 1,000μm wet)
Accommodates coating speeds ranging from slow to fast (0.1 – 200m/min)
Coating thickness can be easily adjusted by regulating the feed pump rotation speed and coating gap
Easily inspected and maintained thanks to a simple, compact construction (no need to perform slit gap adjustment)
Accommodates automated system regulation and cleaning
Abundant practical application examples of stripe coating and simultaneous multilayer coating
Coating precision: ≤ ±3%
Incorporates substrate conveyance technology which prevents film scratching or creasing during conveyance, a technology which is indispensable to the manufacture of functional films.