Related Contract Testing
FLOLIA® Coater System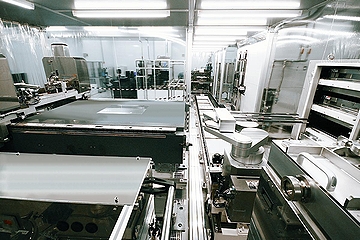 Testing Unit
FLOLIA® Coater System
Testing Unit Installation Site
Chugai Ro Sakai Works (Sakai City, Osaka Prefecture)
Unit Specifications
Maximum substrate size: 400 mmW × 500 mmL
Coating thickness: ≥ 1 μm wet (100 nm – 1,000 μm dry)
Coating viscosity: 0.001 – 100 Pa∙s (1 – 100,000 cps)
Coating speed: ≤ 200 mm/sec
Installation environment: Class 10
System Process
Pre-coating substrate cleaning apparatus: E-UV, Wet cleaning
Coater: SLIT COATER
Reduced pressure drying apparatus: Heat treatment process-capable
Hot plate
Clean oven: N2 atmosphere-compatible, Max. 500℃
Film defect inspection apparatus
Offline film thickness measurement apparatus: Optical
FLOLIA® 3000 Coater System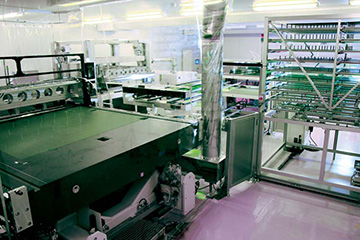 Testing Unit
FLOLIA® 3000 Coater System
Testing Unit Installation Site
Chugai Ro Sakai Works (Sakai City, Osaka Prefecture)
Unit Specifications
Maximum substrate size: 1,850 mmW × 1,500 mmL
Coating thickness: ≥ 1 μm wet (100 nm – 1,000 μm dry)
Coating viscosity: 0.001 – 100 Pa∙s (1 – 100,000 cps)
Coating speed: ≤ 200 mm/sec
System Process
Coater: SLIT COATER
Reduced pressure drying apparatus: Heat treatment process-capable
Hot plate
Film thickness measurement: Coater accessory function
RS Coater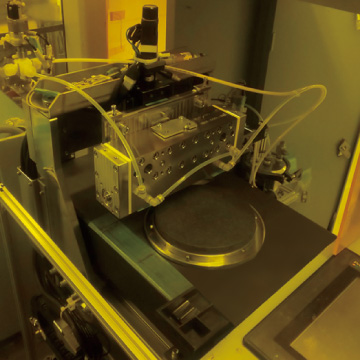 Testing Unit
RS Coater
Testing Unit Installation Site
Chugai Ro Sakai Works (Sakai City, Osaka Prefecture)
Unit Specifications
Maximum substrate size: 4 – 18 inch (φ450 mm)
Coating thickness: 50 – 200 μm wet and up
Coating viscosity: 500 – 15,000 Pa∙s (cps)
System Process
Clean Oven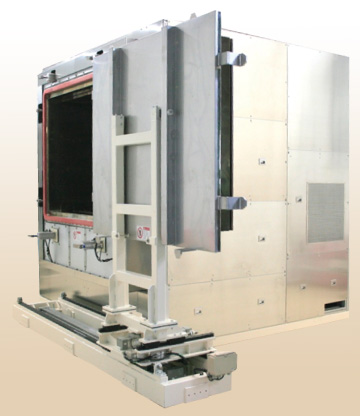 Testing Unit
Clean Oven
Testing Unit Installation Site
Chugai Ro Sakai Works (Sakai City, Osaka Prefecture)
Unit Specifications
Maximum substrate size: G2.5 – G6
Heating system: Convection type (heated air circulation system)
Maximum temperature: Max. 550℃
Furnace interior O2 temperature: ≤ 10 ppm (when using pure N2)
System Process
Oven
Film defect inspection apparatus
Contract Testing Requests and Inquiries
As a rule, there is a charge for testing. (Details of the testing to be performed will be included with the cost estimate provided after application confirmation.)
If you would like to have testing performed, please click the "Contract Testing Request" button below, fill in the essential fields on the "Testing Request Form" and then submit it.
Testing requests may be declined, depending upon the content of the request.
There may be a significant waiting period for testing completion, depending upon the usage status of the testing unit.
* Chugai Ro has testing equipment available for use as part of business discussions with customers interested in systems and equipment purchase and installation. Piecework, once-off testing and other requests are not accepted.