Heat Treatment Furnaces for Battery, PCB(Printed Circuit Board), Catalyst, and Magnetic Materials
Functional Material Heat Treating Furnaces
■Continuous Muffle Type Furnac
This furnace is apply to the heat treatment which requires high temperature accuracy and high-grade atmosphere such as oxidization, reduction, degreasing, carbonization and baking for functional materials of the electrode material, the magnetic material and the fluorescent substance.
Electricity, gas or oil is possible to use for the heat source.
In case gas and oil, the running cost is one third compared with electricity and to cost down of the product.
■Continuous Baking Furnaces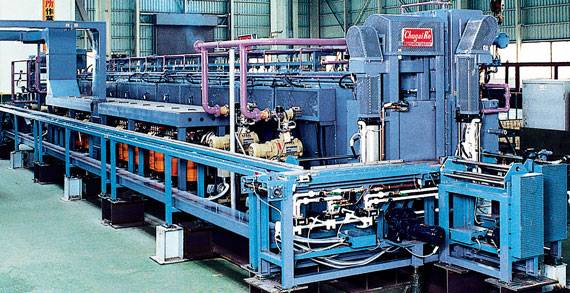 The continuous baking and sintering furnace can be performed in various atmosphere such as nitrogen, argon, air and vacuum at maximum temperature 2800°C.
Moreover, in combination with the above-mentioned muffle furnace, degreasing and sintering, detar and sintering, carbonization and graphitizing processing can be performed continuously to shorten the lead time and to reduce the energy consumption.
●Automation of process lines
The line from acceptance of materials to packing of a product is automated.。