Heat Treatment Furnaces for Automobile Machine Parts
Vacuum Carburizing Furnaces for Mass Production 'HIFALCON™'
About Vacuum Carburizing Furnace "FALCON™"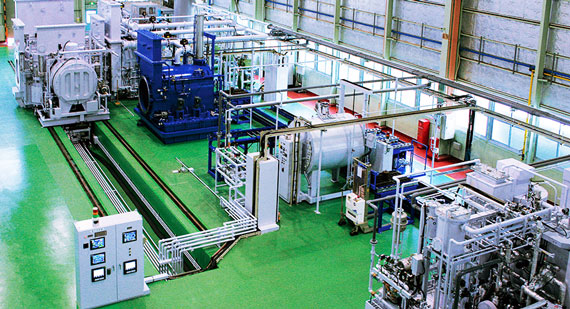 Compared with gas carburizing furnaces, Vacuum Carburizing Furnaces for Mass Production 'HIFALCON™', being seasoningless, allow for more flexible operation.
'HIFALCON™' is designed for low-cost operation, optimized according to the amount and kind of the processing intended. The processing units comprise carburizing chambers, oil combustion chamber, conveyance chambers, heat retention chambers, and cooling chambers, and are precisely assigned according to purpose, each kind of chamber being provided in only the numbers required.
Furthermore, the materials feed equipment is rotatable, meaning that furnace facilities can be lined along both sides of it. This makes for a space saving of around 30% compared to single-sided lines and allows for greater variability in facility layout.
Processing can be done of single-charge batches of up to 900 kg, which enables productivity over 1.5 times greater than with a conventional vacuum carburizing furnace and reduces the amount of equipment needed to do the job. With cost performance matching that of our continuous gas carburizing furnaces to date, 'HIFALCON™' excels in terms of working environment and safety.