Heat Treatment Furnaces for Battery, PCB(Printed Circuit Board), Catalyst, and Magnetic Materials
High Temperature Furnaces / Hot Presses
■ Pressurized Gas High Temperature Furnaces
| | |
| --- | --- |
| Inert Gas Atmosphere Furnace | High Vacuum/Atmosphere Furnace |
These standardized furnaces are ideal for sintering or firing ceramics and graphite. An inert gas furnace using nitrogen or argon or helium as an atmosphere can be operated under conditions ranging from a vacuum to a maximum atmosphere pressure of 0.99 MPa with a maximum temperature of 2,800°C.
An oxidizing atmosphere furnace is capable of heating materials up to 1,700°C in air or an oxygen atmosphere.
A high vacuum/atmosphere furnace and Halogen gas purification furnace are designed for heating up to 2,500°C under a hydrogen atmosphere or high vacuum conditions down to 0.01 Pa.
A low pressure hot isostatic press (HIP) simplifies dewaxing and sintering processes under an ultrahigh pressure atmosphere up to 30 MPa.
Also, an atmospheric pressure high temperature furnace is available which allows heat treatment under the atmospheric pressure or vacuum conditions.
■Hot Presses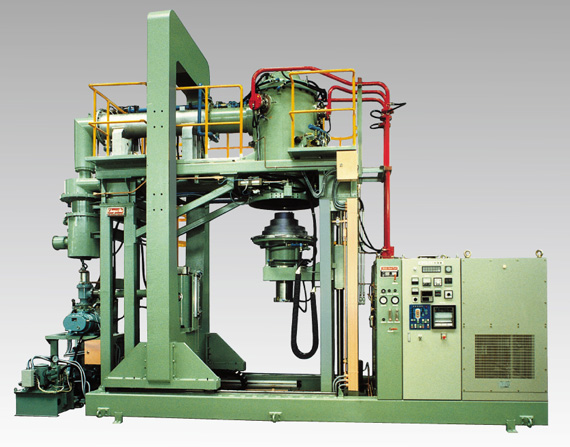 Press frames, using our original heavy plate machine-processed construction, are free from secular changes such as distortion or deformation which would be found in the conventional welded frames. This enables workpieces to be pressed at a high pressure consistent with the theoretically calculated value. The press frame can move sideways, enhancing operability and safety (utility model).
The hot press is capable of operation at a temperature up to 2,800°C under a maximum atmosphere pressure of 0.99 MPa, like the pressurized gas high temperature furnace.
For laboratory use a variety of hot press models and sizes are available. Those models include "Twin Hot Press" which consists of an oxidizing furnace, an atmosphere furnace and a moving press frame, "Single Hot Press" consisting of a furnace and a press and "Box Type Hot Press" of the front loading design using a fixed press frame.
■Continuous Hot Presses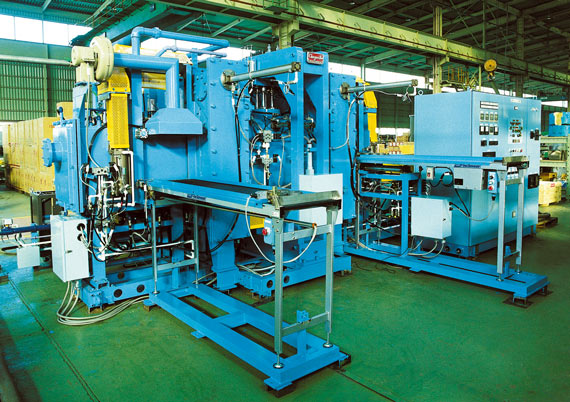 The continuous hot press processes a plurarity of workpieces at a time in a high temperature atmosphere up to 2,400°C.
This greatly increases production. A workpiece is pressed by each individual cylinder, whereby the density of the sintered products is very uniform.