Metal Process Lines and Paint Coating Lines
Transverse Flux Induction Heater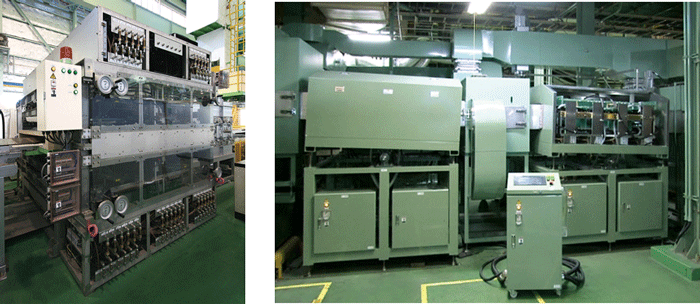 ChugaiRo has a large portfolio of patents and achievements in thin-sheet flux induction heating, and has just come out with a new development. This new transverse flux induction heater makes possible ever higher product quality and processing efficiency.
Induction heating enables size reduction, rapid heating, and quick and easy settings adjustment for different jobs. To these features, transverse induction heating adds the ability to heat metals whatever the magnetic body, or whatever degree?or lack?of magnetism. Then add to this the outstanding heating uniformity across the width of the sheet made possible by our jointly developed, patented MV coil.
Although transverse, excellent heat distribution is assured even with changes in material width.
We offer proposals for optimized coating/drying lines, based on coupling our transverse flux induction heater with our drying furnaces and baking furnaces (air heating- and radiant-type), which themselves boast an impressive record of industrial results.
N.B. This equipment was co-developed with SPC ELECTRONICS CORPORATION.
→ Contact Us